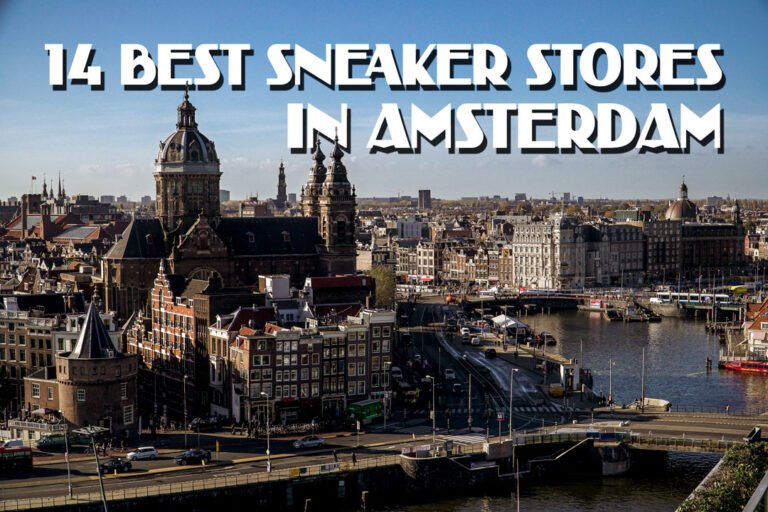 With its beautiful canals, unique architecture, and over 100 museums (not to mention a shit ton of bars and coffeeshops) Amsterdam has a lot of sights to offer tourists and locals alike. Amidst the haze of marijuana smoke and obnoxious (mainly British) tourists, there are a few gems that will stand out to a particular group of people. The sneakerheads.
For such a small city there are a surprising amount of sneaker stores in Amsterdam making it what some people (me) would call Sneaker Mecca. Amsterdam's densely packed nature and walkability make it possible to visit all of these locations in a single day, especially with about half of the stores basically located near one street. Spuistraat (pronounce the '-ui' like 'ow', as in "Ow, my feet hurt.") and a few streets running parallel. Let's call this area Sneaker Central. Prepare yourself to pay homage to streetwear and sneaker culture in Amsterdam. Begin your pilgrimage to some of Amsterdam's holiest of sneaker sites with this list of the 14 best sneaker stores in Amsterdam.
Check out this handy map to plan out your route.
This is personally my favorite sneaker store in Amsterdam, as the owner is knowledgeable, friendly, and loves sneakers. I guess that last point is a given if you are going to open a sneaker store in Amsterdam. Meaning "sneaker" in Japanese, Sunika brings a bit of the Japanese streetwear style vibe to Amsterdam. I try to not get too stereotypical on this blog, but the sneakers are supported on the walls with chopsticks.
Sunika is a smaller store but with a rather large selection of sneakers and colorways to choose from. This store isn't just a room full of Nikes and adidas, they carry brands like Saucony, Puma, and Karhu making it a great place to discover a new brand or silhouette for yourself.
Due to it being a bit further from the center of town Sunika gets more local traffic. "Further" is quite a relative term here as you can get there from most places in Amsterdam in about 20 minutes. Sunika carries some deadstock collections and smaller independent designers so you might find some hidden gems to add to your collection from this local Amsterdam sneaker store.
https://www.sunika.nl/ | Bilderdijkstraat 102
Sadly, the COIVD-19 pandemic has forced the Nederlands oldest sneaker store to shut its doors. You will be missed!
Seventy5 claims to be the first Dutch sneaker store, opening their doors at the Nieuwe Hoogstraat location in 1999. They definitely deserve some props for being one of the founding fathers of the sneaker community and the first sneaker store in Amsterdam.
Seventy5 doesn't have the largest selection, they do carry a good basis of classic and, from time to time, some exclusive releases. Aside from sneakers, they do offer some other gear like a sweet Poler backpack I picked up on sale. Their sales are pretty good so it's definitely worth checking them out when you are in town. Their locations are mainly on the outskirts of the center of town (which really only indicates a separation of locals and tourists in Amsterdam) so it's a good sneaker shop to go to if you want to discover more about Dutch style.
http://www.seventyfive.com/ | Nieuwe Hoogstraat 24 – van Woustraat 14 – Haarlemmerdijk 55-C
The newest sneaker store on the list, this one is for the most dedicated sneaker lovers owned by one of Amsterdam's most notorious sneaker collectors, Chanica Kist. You might have heard of her during 2016's Air Max Day when Nike released the 'Masters of Air.' Not only was it a dope fucking video (seriously watch it again) but it gave us some insight into what motivates the owner of Chaptr One. No wonder she opened up a sneaker shop.
Chaptr One is a sneaker consignment store. For those that don't know, consignment stores basically offer a place for people to present and sell their items while the store gets a cut. This means that these sneakers at Chaptr One usually come from someone's collection. If you are looking for a truly rare sneaker or something very few people have, this is the sneaker store for you.
Master's of Air Volume 1
The shop is open Wednesday to Sunday from 11am to 7pm and located in the heart of the city very near to Spui Plein (Square) and in the aforementioned Sneaker Central.
https://www.facebook.com/chaptrone/ | Singel 417
Maha caters specifically to women for sneakers and streetwear. They claim that this is a demographic that has been left out of the equation in the world of sport-fashion, I would agree to the extent that it was a huge problem about 5 years ago. Maha definitely has a large and diverse collection of fashion for the ladies to choose from. It will cost a lot, but it will look good.
This sneaker store features a more eclectic mixture of sneakers and a collection of streetwear items to match. You will find quite a lot of Air Max 95s and 97s here. So if that's your thing, you know where to go.
https://shop.maha-amsterdam.com/ | Vijzelstraat 105
Oqium is a big player in the sneaker game and particularly with Jordan's. With stores in Berlin, Rotterdam, Amsterdam, the Oqium sneaker store in Amsterdam looks sick and often does exclusive events and releases. While it is located close to a big sneaker store Solebox, they both cater to different kinds of sneaker lovers. At Oqium you can get all your basketball and Jordan sneakers and apparel.
If you love your Jordan's and you find yourself Amsterdam, make sure you make a pilgrimage. Seriously they have a Jordan collection, though I prefer to see it as a shrine, near the cash register that includes sneakers, memorabilia, and even some Wheaties Boxes of the man himself.
http://www.oqium.nl/ | Nieuwezijds Voorburgwal 262
Solebox is a fairly new sneaker store in Amsterdam and it's a great one. Styled as a chemistry lab, the store looks impressive and massive. Located in the Sneaker Central, it's incredibly close to one of the most central points in Amsterdam, Dam Square.
Solebox has a good mixture of classics and newer models to match the laboratory theme. Solebox is also known for doing some pretty awesome sneaker collaborations and offering more exclusive releases for people to get their hands on. This factor, along with the cool aesthetic of the shop, make it a must. Solebox, along with Size?, is that perfect mixture of large purchasing power (to get awesome releases) and a focus on a particular scene that was lacking in Amsterdam for a while.
While sneakers are the focal point, Solebox also offers some apparel as well. Last time I checked the store also had a collection of BAPE gear which is not something that I've seen very often in Amsterdam.
https://www.solebox.com/ | Nieuwezijds Voorburgwal 240
Pattas is a Dutch slang word for shoes, which gives a pretty clear idea of the origins of Patta. Patta started in 2004 as a way for the founders of the brand to get footwear and gear that was unavailable in the Netherlands. This literally meant traveling around to obscure sneaker stores and bring sneakers back in duffle bags. This home-grown streetwear powerhouse eventually evolved into focused on streetwear as a whole creating a very popular brand.
Patta collaborates pretty regularly with big brands like Nike and Carhartt to produce limited collections that sell out pretty quickly. Since Patta is no stranger to sneaker and clothing collabs, this store is something that should be on the list of any self-respecting sneaker lover. At Patta, you can also find staples like Nike, adidas, ASIC, Reebok as well Rockwell, Awake, and Patta's own brand.
If the Spuistraat area is Sneaker Central, then Zeedijk (near the Red Light District and Chinatown) is the Streetwear Alley of Amsterdam.
https://www.patta.nl/ | Zeedijk 67
Mainly a clothing store stocking luxury streetwear such as Norse Projects and the like, Baskets also has sneakers available. Baskets sees themselves as a concept store that connects sneaker culture with contemporary fashion. They carry the larger brand sneakers like Nike, adidas, and Puma and offer quite a few exclusive releases. If you can consider what you are looking for premium streetwear or sneakers, Baskets is going to be the place to go.
http://www.baskets-store.com/ | Gerard Doustraat 96 – Elandsgracht 57-59
With only one physical location but a massive online footprint, Sneaker District still has a lot of offer in their store. They carry a good mixture of colorways and base brands like New Balance, Nike, adidas, and ASICS. Sadly, you will have a hard time finding any Karhu or Diadora sneakers here. Sneaker District clearly focuses on sneakers, but they also have some other products like clothes, watches, and hats. They've got a good selection for both men and women, but don't go in expecting to walk out with anything rare. With that being said, this place is perfect for someone that wants a cool pair of sneakers to remember their trip to Amsterdam.
The store does have a cosy feel about it and because it is a little off the beaten track, it won't usually be as packed as some other sneaker stores in Amsterdam. So, expect a little more personal service here and the chance to drink some coffee with the people working there while you pick out your new kicks. Also, it's worth visiting the store just to see the massive reproduction of Rembrandt's famous painting 'The Night Watch' but with everyone wearing sneakers.
https://sneakerdistrict.nl/ | Rozengracht 21
ASPACT makes it to the list because you can't talk about the Dutch sneaker community without mentioning two brands that are typically considered premium or high-end sneakers, Filling Pieces and ETQ Amsterdam. For two sneaker brands that were founded in Amsterdam, it's strange that this is one of the few sneaker stores in Amsterdam that carries both brands. Solebox and Maha also carry Filling Pieces but their collection is not this big. Check out the stores and build yourself a complete Amsterdam sourced outfit.
https://www.aspactstores.com/ | Leidsestraat 25 – PC Hooftstraat 31
Another streetwear store, Concrete has a good collection of high-fashion athleisure gear. What does that mean, you ask? It's an often strange mixture of athletics inspired cuts and materials, mixed with the craziness of runway design. Search for Yohji Yamamoto's Y-3 for a prime example. The store is Amsterdam's offer for those haute-couture streetwear fans that love Raf Simons, Vetements, and Off White
On the sneaker side, Concrete has some brands and exclusive models that you will have a hard time finding elsewhere. They've got Yeezys, Y-3, Raf Simons collabs and enough adidas future sneakers to build your own rocket ship to Venus. While these may not attract your average sneakerhead, Concrete also has a solid collection of normal sneaker models that make this place worth a visit for everyone.
https://concrete.nl/ | Spuistraat 250
This skate shop has been the basis of the skate culture and skate style in Amsterdam for a while. Since 2005 in fact. Over more than a decade, Ben-G has remained true to its roots. Once upon a time Patta and Ben-G even shared the current location together. If you are a skater that likes visiting other skate cultures and seeing skate memorabilia, this is definitely a place to visit. Ben-G has a "Very Special" area on the third floor which offers a carefully selected mix of deadstock (new old stock) sneakers and vintage streetwear.
At this store you can not only get skate-inspired sneakers but also clothes and decks. You will not find any Free Runs or Jordans here, this place is strictly by skateboarders for skateboarders. Hell, they don't even offer longboards. Ben-G also hosts a lot of collabs so it is worth checking their website out ahead of your visit to Amsterdam and maybe planning to be in town for certain releases.
While I didn't make this list in any particular order, Ben-G is one of my favorite sneaker stores in Amsterdam.
https://www.ben-g.nl/ | Nieuwezijds Voorburgwal 142
Actually owned by JD sports, but focusing more on the sneaker rather than athletic side of footwear, Size? offers a varied selection of sneakers. If JD sports doesn't have it Size? might. They've got the Adidas, the Nikes, the New Balances, the Karhus, the Timberlands, the Diadoras, the Filas, the Sauconys, the…. you get the idea. This place is loaded and probably the best one-stop sneaker stores in Amsterdam.
Size? also has an impressive collection of streetwear/urban fashion upstairs. Brands like Huf, adidias Originals, Stussy, Carhartt, Patagonia, and The North Face (since when did they become streetwear?) are available. This great combo of sneakers and fashion makes Size? quite a good place to build up a wardrobe.
If you are only in Amsterdam for half a day and you don't give a shit about the local scene and its players, then Size? is a great place to shop. It's doubtful that this is the case, so add Size? to the end of your list after you check out the local favorites.
https://www.sizeofficial.nl | Kalverstraat 128
While there are about three other Foot Lockers in Amsterdam, this post will focus on the House of Hoops store. What does that House of Hoops have to offer? Well, it's in the name. This Foot Locker the largest in Amsterdam and offers a larger selection of basketball sneakers, apparel, and equipment. They specifically offer the entire collections of Lebron James, Kevin Durant, Kyrie Irving, and Kobe Bryant. If you love basketball, a fan of Jordan's, or just love basketball sneakers style, this place if for you. Outside of basketball sneakers, the store's got a pretty solid selection of normal sneakers. Also, because it is a flagship store, it's going to host a lot of exclusive releases – like during Air Max Day (March 26th).
Its located on the busiest shopping street in Amsterdam, so get their early to beat the crowds or visit on a Thursday when the shops are open later.
https://www.footlocker.nl/nl/winkelzoeker | Kalverstraat 100
Honorable Mention: Sneakerness
Sneakerness is the sneaker enthusiast's (wet) dream, where some of the most exclusive pairs of sneakers can be yours for the right amount of cash. Also, technically not a sneaker store. This traveling sneaker market comes to Amsterdam once a year and is the chance for sneakerhead's to cop the dopest pair or to strike at gold by selling part of their collection. While it is cool to check out, it's not the place for causal sneaker fans. With pairs of sneakers going for €1,000 + and the requirement to actually purchase a ticket to attend the event, this place is for getting down to business. By all means, if you know your shit, check out the schedule for the next Sneakerness at a location near you.
https://sneakerness.com/ | TBA